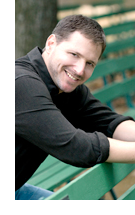 Rick Mathieson is an award-winning writer, author and creative strategist.
Heralded as a strategic marketing expert by Harvard Business School's Working Knowledge, his research into next generation business models has earned praise from USA Today. And his insights on postmodern marketing have been featured in ADWEEK, Advertising Age, Wired, Forbes, The Wall Street Journal and on MSNBC, CNN Radio and NPR.
His book BRANDING UNBOUND has ranked as the world's #1 best-selling book on mobile marketing. And it has been hailed as a visionary and indispensable guide to the mobile revolution.
His new book, THE ON-DEMAND BRAND, was a #1 Amazon "Hot New Release," and has ranked among Amazon's Top 10 books on advertising. Spanning social media, branded entertainment, mobile marketing and more, the book has been described as "required reading for the digital age" for its strategic approach to delivering blockbuster brand experiences through digital innovation.
As a strategic advisor, Mathieson has consulted on digital marketing initiatives developed for Hollywood studios such as Disney and Strategic Film Partners, and for consumer product brands such as Coca-Cola and Ford.
He has helped innovative startups in mobile, social media and gaming with influencer outreach in the worlds of advertising, marketing and media.
And he is a frequently featured speaker at industry events, such as The iMedia Breakthrough Summit, Digital Hollywood, The Global Retail Executive Council, The Microsoft Leadership Forum, Yahoo's "Branducation" lecture series, and the AMA's "Corporate Branding" series, among many others.
Over the last few years, he has briefed executives from FedEx, Virgin America, Bloomingdales, Procter & Gamble, Yahoo, Kraft Foods, MasterCard, Warner Bros., Hard Rock Café, Accenture and many others on digital marketing trends and emerging digital platforms.
Over the course of his career, he has been recognized with over one hundred regional, national and international creative awards for work produced for a veritable "Who's Who" of global brand names, including HP, Specialized Bicycles, T-Mobile, TiVo, Cellular One and Ferrari Club of America.